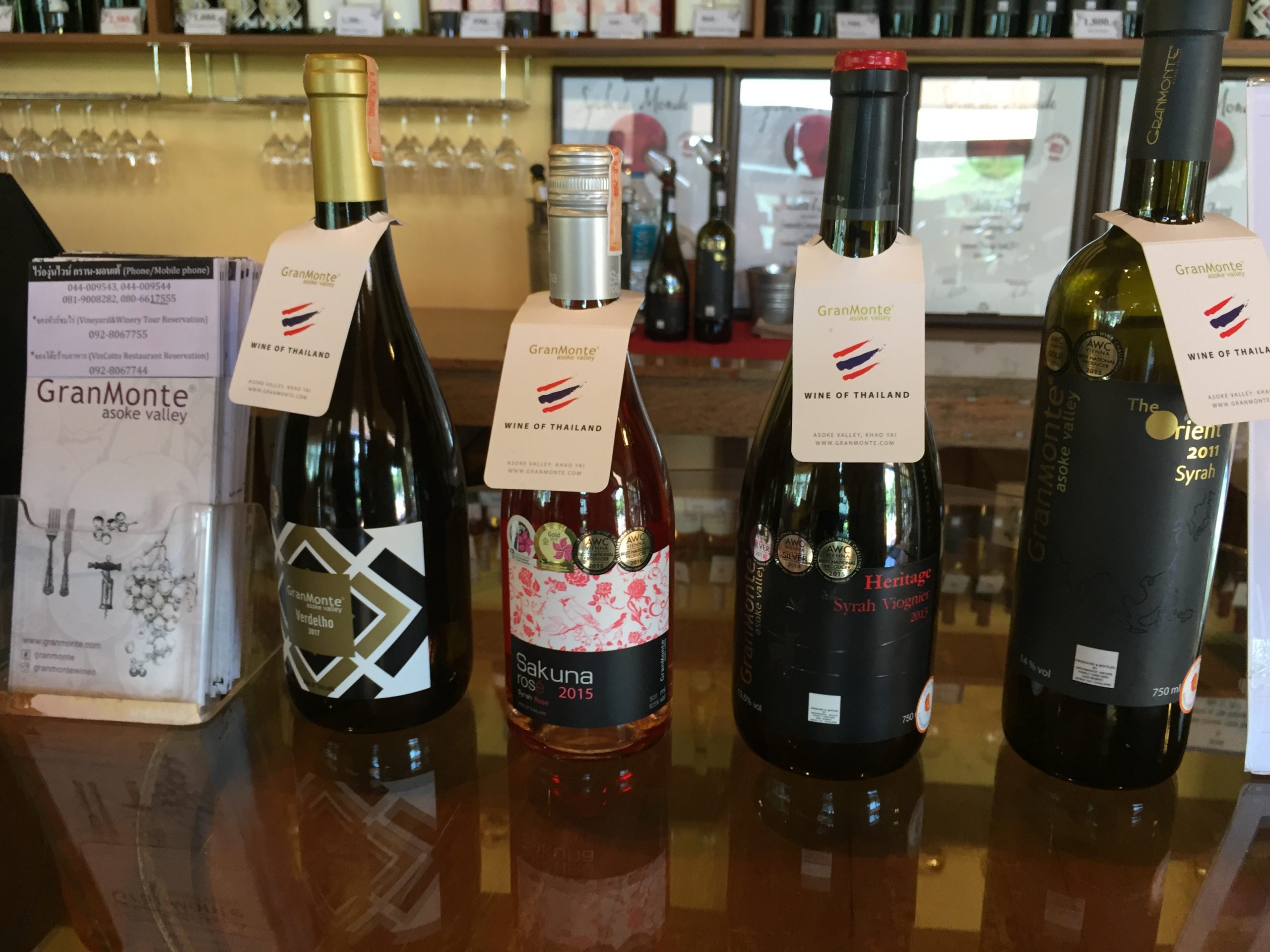 Think it's impossible to plan a day trip to a wine region from Singapore? Think again. 160km North of Don Mueang International Airport in Thailand is where you would find the country's famous wine region, Khao Yai. Boarding an early morning flight from Singapore, it will take you about 6 hours to reach your destination. There are splendid wine tours in Khao Yai during the day and for the insatiable foodie, you still get to experience local Thai cuisine on the way back to the airport in the evening as a plus.
Such short trips might not be on your "short getaway" list due to time constraint, but to be able to visit a famous wine region within our vicinity, should be good enough of a reason to give it a go (especially if you're a wine geek like me). If time is on your side however, I do highly recommend spending a day or 2 touring the region in detail. I managed to visit 2 wineries in Khao Yai this time, but of course, it was more than a day trip.
I'm pretty sure a wine from Khao Yai is no stranger to true wine aficionados. On the other hand, it is a relatively unknown product to the layman. Some consumers might even be surprised that Thailand produces wines at all. It surely surprised me! The fact of the matter is, until the early 1990s, winemaking was simply deemed impossible in Thailand because of inadequate technology and climate.
Thailand experiences a tropical climate. As it is, Bangkok is really hot and humid (sometimes way hotter than Singapore) and it is simply too hot to grow grapes. The answer to this problem is altitude. Khao Yai is located at appoximately 350m above sea level in the northern mountainous region and for that, it is a few degree cooler than Bangkok. While the peak is over 30℃ in the daytime, the temperature drops down to nearly 10℃ during the night. With such a diurnal temperature difference, this makes it possible for grape growing. So with a mere 1700 kilometers from the equator, what sorta wines can you expect from this tropical climate region?
After many trials and experiments, Khao Yai's most suitable grape varieties are Chenin Blanc and Syrah. However, a continuous effort to grow other varieties here has seen the emergence of other international grape varieties such as Cabernet Sauvignon, Grenache, Verdelho or Colombard.
The first winery that I visited was Gran Monte which is located in Asoke Valley, Khao Yai. 60% of their estates (around 40 acres) are planted with black grapes, and 40% are white grapes. Statistics show (if you're into that sorta thing), that production is about 12,000 bottles per year, and 80% of them are consumed domestically. The current trend of domestic wine production is increasing from year to year, and whooping a 800,000 bottles of wines are produced in the whole of Thailand. In addition, wine consumption per capita in 2015 was 0.3ℓ. While this number is relatively small, the per capita in 2010 was a mere 0.15ℓ (consumption has doubled in the past 5 years). Gran Monte also exports about 20% of its total production to many countries such as Japan, Hong Kong, etc.
Due to confidentiality, I'm unable to reveal their future plans but what I do know is that they are creating a new label probably in the next 5 years. In attempt to engage local consumers, they encourage locals and foreigners to participate in the grape harvest festival during February as a form of friendly competition. Nearly 30 teams challenge one another every year and the winner receives prizes valuing over THB 35,000 (not to mention Gran Monte wines)! It is a festival that incorporates Jazz music and a "Harvest Lunch" generously provided by the winery's restaurant, Vincotte.
Tram tours are available in the winery. The basic price of a tour is THB 300, but I chose a more premium package (THB 950) which includes wine tasting and 3-course lunch at the restaurant. The vineyard truly engages your sense of sight and smell. It feels that you are one with nature. There were various styles of wines made by Gran Monte. One of which was a Crémant, which is sparkling wine produced with the labor-intensive method similar to Champagne. This sparkling was made by 100% Chenin Blanc. The most unique factor of this winery was Ms. Nikki. She is the first and the only female wine maker in Asia. The wine that best represented her work was the Sakuna Syrah Rose which was named after her mother Ms. Sakuna. This wine has also claimed many awards such as the Sydney International Wine Competition 2014 (Blue-Gold award).
The second winery, PB Valley Winery was a neighbour to Gran Monte; however both vineyards possess different micro climates. PB Valley has a larger estate that's over 1,000 acres where more than 200,000 bottles are produced each year. This bigger winery is owned by the Bhirombhakdi family, owners of one of the most popular beer in Thailand, Singha. Their wines are made by producers from New Zealand and Germany; some labels have already won awards. Recently 2011, they were awarded the Asia Wine Pioneer Award in Singapore.
This huge estate not only produces wine grapes but also table grapes, Arabica coffee beans, mulberries and some other agricultural plantings. It possesses a lot of high-tech instruments in the winery, and various barrels of different sizes such as 255ℓ French oak barrique to 1000ℓ Slovenian oak barrels.
At the cellar door, 100% fresh grape juice is catered for kids and non-alcoholic drinkers. In addition, they were serving 1 white and 2 red wine for tourists. The tasting room was well organized with rows and rows of bottled wines. I did find something interesting that labels were written in Korean language rather than Thai. Catering to a large Korean community in Thailand was the biggest reason in such a strategy.
Gran Monte and PB Valley Wineries are vastly different conceptually, yet both are trying to achieve the same ultimate goal, which is to promote the local wine industry.
This trip was truly an eye opener for me. The knowledge I've gained from my experience is that although grapevines life cycles are totally different between Thailand and other grape growing countries, they are still able to produce quality wine grapes. Fruit set on vines occurs in October / November, and harvest season is between January to mid March (Unlike the Northern hemisphere where flowering of grapevines are June or July. Fruit set occurs in July and August, and the harvest takes place in September and October) Although Thailand can be overwhelming hot, due to the cool nights, berries tend not to be overripe and the amount of sugar accumulation likens those of EU countries. Thailand shares the same harvest season in the southern hemisphere, such as Australia (between March and April) which is astonishing.
On to wine qualities, white wines tend to have aromas of passion fruits, guava or pineapple which likens warmer climate wines. As for red wines, they tend to have aromas of spices derived from oak ageing. It's amazingly balanced with fruitiness and moderate acidity, which is comparable to some new world. Before this trip, I did not believe that Thai wines had any provenance. However as it turns out, this trip has changed my mind-set and I'm expecting a lot more from the future of Thai wines.
Learn from my experience and plan a 2-day-1-night tour if you ever wanna visit this godsend gift of nature. A day is definitely not enough! I'm already making plans to be back in February for the Grape Harvesting Festival in Gran Monte.
Care to be my travelling partner?
---
Guest Correspondent:
Daisuke is a native to Hokkaido. After his graduation from the Institute of Technology of Japan, his passion for culinary arts, hospitality management and wine saw him fulfil his enrolment for  the Santa Barbara City College in California.
On his return to Japan, he started work in an Italian restaurant in Sangen Jyaya (三軒茶屋) and Ginza (銀座) in Tokyo for 4 years and became a certified sommelier.
During 2012, he moved to Singapore and started work initially at an Italian restaurant before moving to the Japanese restaurant, SUN with MOON (own by Suntory), to provide service and beverage training within the group.
He is currently pursuing the WSET L4 Diploma, WSET Level 3 Sake and hopes to become Master of Wine / Master Sommelier and be honoured as a true wine and sake specialist of Japan.
Other accolades
•Degree of Bachelor of Engineering (Japan)
•Degree of Culinary Arts and Hospitality Management (Santa Barbara, US)
•Wines & Spirits Education Trust (WSET) Level 3 Advanced certified
•French Wine Scholar with Honors (FWS)
•Certified Specialist of Wine (Society of Wine Educators)
•Certified Sommelier (Court of Master Sommelier)
•Certified Sommelier (Japan Sommelier Association)
•Certified Sake Sommelier (Sake Service Institute)
•Singapore Wine Specialist Challenge 2015 Winner Award
•Singapore Sommelier Challenge 2013 Finalist