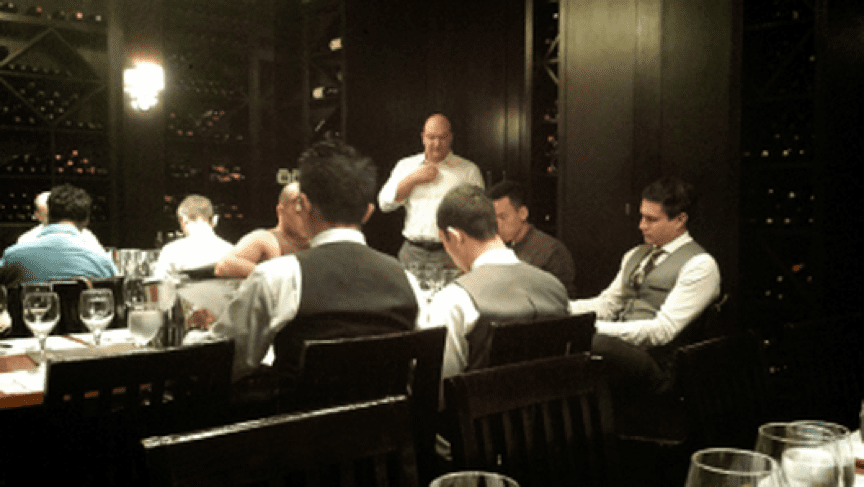 Osteria Mozza @ Marina Bay Sands
Scored an invite to this exclusive "Whisky & Rum" tasting last Friday and I must say it was truly an eye opener considering its limited exposure as compared to the wine scene in Singapore (Special thanks to Jeremy Ho, Restaurant Manager of NOX).
Most whisky lovers would know, the Scots & Brits are the powerhouses in this arena. So how did an Italian dude come into the picture ? One might even ask , what's the hype about the house of Samaroli ? A one word answer perhaps ? ARTISAN. For starters, when Mr. Silvano Samaroli established the company in 1968, he was the only bloke that was non-British or non-Scottish whom bared ambitions to making the best whiskies in the world. That in itself would have turned heads. The man may be in his 70s now, but the company has never been stronger ever since the torch was passed to his protégé, Antonio Bleve.
They call themselves "a very small artisanal company" but there is nothing small about their operations, extending their reach across continents (Asia, Europe & America). A solid reputation has been established on selection of the best cask. The amount of effort that was put into selection & production, R&D and marketing strategies are both intricate and bold, in line with their sole mission for their products to be Excellent and Unique. And if I may add, scarce. The amount of bottles produced per product, ranges from a maximum of 750 (2005 Caribbean Rum) to a mere 187 (2014 Evolution Limited Edition). Hence, its no wonder Samaroli commands such a high price (retail comparable to a Royal Salute 21 or Johnnie Walker Blue Label).
We started with the 1995 Samaroli Blended Malt Scotch Whisky 'S Peaty.
According to Antonio, it is a blend of 3 different barrels of whisky from Islay, Highland Park & Speyside. Although the composition was not disclosed (trade secret maybe), one would assume the majority comprises of whisky from Islay considering they are generally heavily peated. Antonio also mentioned that it was elegant, easy to drink and not sticky owing to the use of new cask.
Sean's tasting notes : Rich, intense & smoky. Bouquet of tea leaves & dates with a round caramel finish.
Next, 1992 Sherry Single Malt Scotch Whisky Glen Scotia Distillery
Glen Scotia is a distillery located in Campbeltown which was once labeled as the "Victorian whisky capital of the world" but sadly, an exodus of distilleries marked its declined. As it stands, only 3 distilleries are left standing (Springbank, Glengyle & Glen Scotia). Samaroli must have seen something of great potential in the once prolific Campbeltown but what truly caught my attention was the Sherry cask. I recently chanced upon a Glenmorangie "The Lasanta" and it was pleasantly tantalizing so you can imagine the anticipation I was experiencing. Thankfully, I was not disappointed. Antonio briefly mentioned though the means was to impart oloroso-like characteristics, but the highlight was still very much the whisky.
Sean tasting notes:  Piped tobacco and vanilla with a nutty aroma reminiscence of hazelnuts. Evidence of chocolate, dry fruit and toffee on the palatte. Evidence of salinity, and a touch of oxidation like an aged oloroso.
Lastly, came the highlight of the class. Samaroli Evolution Limited Edition 2014
And it comes to no surprise why the spotlight was on it. The Evolution series comprises of whiskies dating as early as 1957 Mortlach (its whisky is a key component of Johnnie Walker), 1980 Macallan, 1987 Talisker, just to name a few. Every year's addition will include other aged whiskies according to our esteemed blender, ranging from 10 to over 50 years in special sherry or oaken cask. Antonio says the milestones of this blend are "Harmony, Asymmetry and rhythm" which almost sounds culturally Japanese. But make no mistake, this bottle is definitely in a league of its own.
Sean's tasting notes: Aroma of sweet spices exuberating vanilla, cinnamon & coconut. Sweeter and mellower compared the 1995 'S Peaty. Smooth , round with a touch of dried fruit and a hint of mint.