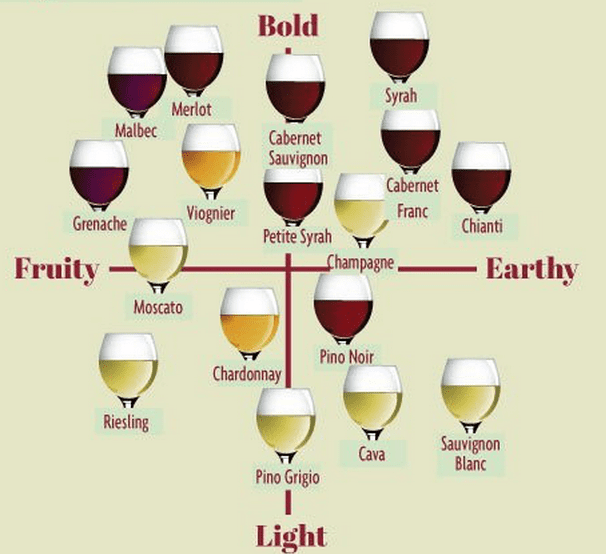 Types of Wine Grapes
Wine is made with grapes, but not typical table grapes you'll find at the grocery. Wine grapes (latin name: Vitis vinifera) have thick skins, are small, sweet, and contain seeds. There are many different kinds of wine grapes–over a thousand,–but here are a few of the most-commonly planted varieties around the world.
Single-Variety Wines and Wine Blends
A wine made with one type of grape is a single-variety wine or, varietal wine. A wine made with several different grapes is a blend. Even single-variety wines are not always varietally labeled though. In Europe, wines are traditionally named after the place they originated. For example, a Bordeaux Blend is a blend of several grapes, including Cabernet Sauvignon and Merlot, and comes from Bordeaux, France. Another familiar example is Chianti ("key-aunt-tee"), a Sangiovese-based blend from Tuscany, Italy.
 TIP: The term "vintage" refers to the year the grapes were grown. Non-Vintage (NV) wines are a blend of several vintages.
Common Types of Wine
The 8 wines included in this article represent 6 of the 9 styles of wine. Trying all 8 wines will give you a good example of the potential range of flavors found in all wine. Each wine listed below also includes alternative varieties that taste similar. So, if you prefer a particular wine, you might also like its alternatives. Try them side-by-side to learn your preferences!
Cabernet Sauvignon
"Cab-er-nay Saw-vin-yawn"
 Taste: Black Cherry, Black Currant, Baking Spices and Cedar (from oak)
 Style: Full-bodied Red Wine
 Description: Cabernet Sauvignon is a full-bodied red grape first heavily planted in the Bordeaux region. Today, it's the most popular wine variety in the world. Wines are full-bodied with bold tannins and a long persistent finish driven mostly by the higher levels of alcohol and tannin that often accompany these wines.
 Food Pairing: lamb, beef, smoked meats, French, American, firm cheeses like aged cheddar and hard cheeses like Pecorino
Cabernet Sauvignon Alternatives
Merlot: Middle weight, lower in tannins (smoother), with a more red-fruited flavor profile
Cabernet Franc:  Light to middle weight, with higher acid and more savory flavors, one of Cabernet Sauvignon's parent grapes.
Carménère: Usually from Chile, very similar to Merlot in body, but with the aggressive savory flavors of Cabernet Franc
Bordeaux Blend, A.K.A. "Meritage": Usually dominant to Cabernet Sauvignon or Merlot, but also includes any of the other Bordeaux varieties
Sangiovese: The noble grape of Tuscany. Similar in body, acid, and tannin to Cabernet Sauvignon, but more red-fruited and elegant
---
Syrah
"Sear-ah" (aka Shiraz)
 Taste: Blueberry, plum, tobacco, meat, black pepper, violet
 Style: Full-bodied Red Wine
 Description: Syrah (a.k.a. Shiraz) is a full-bodied red wine that's heavily planted in the Rhône Valley in France and Australia. The wines have intense fruit flavors and middleweight tannins. Syrah is commonly blended with Grenache and Mourvèdre to create the red Rhône blend. The wine often has an aggressively meaty (beef broth, jerky) quality.
 Food Pairing: lamb, beef, smoked meats; Mediterranean, French, and American firm cheeses like white cheddar, and hard cheeses like Manchego
Syrah Alternatives
Malbec: (Argentina) More black-fruited, often with more aggressive oak usage, less meaty, but with more coffee and chocolate flavors
Petit Sirah: (United States) This grape has no genetic relation to Syrah, but has even more aggressive tannin, acid, and fuller body
Monastrell (aka Mourvèdre): More broad texture, with similar meaty notes, but more of a mixture of red and black fruits
Pinotage: (South Africa) Similar in terms of body, with even more intense, smokey notes.
---
Zinfandel
"Zin-fan-dell"
 Taste: A broad, exotic array of fruits from stone (overripe nectarine), to red (raspberry, sour cherry), to blue (plum, blueberry), to black (blackberry, boysenberry), Asian 5 Spice Powder, Sweet Tobacco
 Style: Medium-bodied to full-bodied Red Wine
 Description: Zinfandel (aka Primitivo) is a medium-bodied red wine that originated in Croatia. Wines are fruit-forward and spicy with a medium length finish. Zinfandel is a red grape that may be better known as the rosé wine White Zinfandel.
 Food Pairing: chicken, pork, cured meat, lamb, beef, barbecue, Italian, American, Chinese, Thai, Indian, full-flavored like cheddar and firm cheeses such as Manchego
Zinfandel Alternatives
Grenache (aka Garnacha): More middle-weight and red-fruited flavors, with the meaty and peppery qualities you get with Syrah
Tempranillo: (Spain) More red and black fruit flavors, as well as lower alcohol and body
Rhône Blend: a blend of Grenache, Syrah and Mourvèdre originally from Rhône Valley of France, very similar, but not as fruity
Carignan: Not quite as exotic in terms of fruit, but adds a lot of savory, dried herbal flavors
---
Pinot Noir
"Pee-no Nwar"
 Taste: Very red fruited (cherry, cranberry) and red-floral (rose), often with appealing vegetal notes of beet, rhubarb, or mushroom
 Style: Lighter-bodied Red Wine with higher acid and soft tannin
 Description: Pinot Noir is a dry light-bodied first widely planted in France. The wines always lead with higher acid and soft tannins.
 Food Pairing: chicken, pork, veal, duck, cured meat, French, German, cream sauces, soft cheeses, nutty medium-firm cheeses like Gruyère
Pinot Noir Alternatives
Gamay (aka Beaujolais): (France) Lighter, juicier, more floral, generally less complex
---
Chardonnay
"Shar-dun-nay"
 Taste: Yellow citrus (Meyer lemon), yellow pomaceous fruits (yellow pear and apple), and tropical fruits (banana, pineapple), often cinnamon, butterscotch, and toasted caramel notes (from oak)
 Style: Medium to full-bodied white wine
 Description: Chardonnay is a dry full-bodied white wine that was planted in large quantities for the first time in France. When oak-aged, Chardonnay will have spicy, bourbon-y notes. Unoaked wines are lighter and zesty with apple and citrus flavors. Chardonnay is the white grape of Burgundy.
 Food Pairing: lobster, crab, shrimp, chicken, pork, mushroom, French, cream sauces, soft cheeses such as triple cream brie, medium-firm cheeses like Gruyère
Chardonnay Alternatives
Sémillon: More middle weight, although often with oak as well, more citrus-driven and herbal aromatics
Viognier: Richer in body, with lots of perfumed, floral-driven aromatics, often oaked as well
---
Sauvignon Blanc
"Saw-vin-yawn Blonk"
 Taste: Aggressively-citrus-driven (grapefruit pith), with some exotic fruits (honeydew melon, passion fruit, kiwi) and always an herbaceous quality (grass, mint, green pepper)
 Style: Light-bodied to medium-bodied white wine
 Description: Sauvignon Blanc is a dry white grape first widely planted in France. Wines are tart, typically with herbal green fruit flavors. Sauvignon Blanc is a parent grape of Cabernet Sauvignon.
 Food Pairing: fish, chicken, pork, veal, Mexican, Vietnamese, French, herb-crusted goat cheese, nutty cheeses such as Gruyère
Sauvignon Blanc Alternatives
Vermentino: from Italy is less herbacious, but with more appealing, bitter flavors (bitter almond)
Verdejo: from Spain is almost identical, although sometimes fuller in body
Grüner Veltliner: from Austria has more savory vegetable notes (arugula, turnip, white pepper)
---
Pinot Gris
"Pee-no Gree" (aka Pinot Grigio)
 Taste: Delicate citrus (lime water, orange zest)  and pomaceous fruits (apple skin, pear sauce), white floral notes, and cheese rind (from lees usage)
 Style: Light-bodied White Wine
 Description: Pinot Gris is a dry light-bodied white grape that is planted heavily in Italy, but also in France and Germany. Wines are light to middle-weight and easy drinking, often with some bitter flavor on the palate (bitter almond, quinine)
 Food Pairing: Salad, delicate poached fish, light and mild cheeses
Pinot Gris Alternatives
Albariño: from Spain is similar, but has more acid and more citrus-driven aromatics (tangerine, orange juice) and floral aromatics
Soave: The grape is Garganega, but often more bruised and oxidized apple-y character, still relatively bitter
Muscadet: The grape is Melon de Bourgogne, and the wine is from France. It's much higher in acid, but still with heavy lees use and relatively neutral flavor
---
Riesling
"Reese-ling"
 Taste: Citrus (kefir lime, lemon juice) and stone-fruit (white peach, nectarine) always feature prominently, although there are also usually floral and sweet herbal elements as well
 Style: Floral and fruit-driven aromatic white that comes in variable sweetness. Some producers choose not to ferment all the grape sugar and therefore make the wine in an "off-dry" style.
 Description: Always very high in acid, when made as a table wine Rieslings can be harmoniously sweet (sweet and sour) or dry (very acidic). The wine is polarizing because some people find dry styles too acidic and sweet styles too cloying, but sweetness is always a wine making decision and not inherent to the grape.
 Food Pairing: chicken, pork, duck, turkey, cured meat, Indian, Thai, Vietnamese, Moroccan, German, washed-rind cheeses and fondue
Riesling Alternatives
Muscat Blanc (aka Moscato): Less acidic with a much more aggressively floral flavor profile
Gewürztraminer: richer, with less acid and more broad texture, rose candy and lychee are typical aromatics
Torrontés: Related to Moscato, but always in a dry style, more full-bodied and bitter
Chenin Blanc: Also very acidic and made in sweet and dry styles, but much more savory with more apple-y, savory aromatics