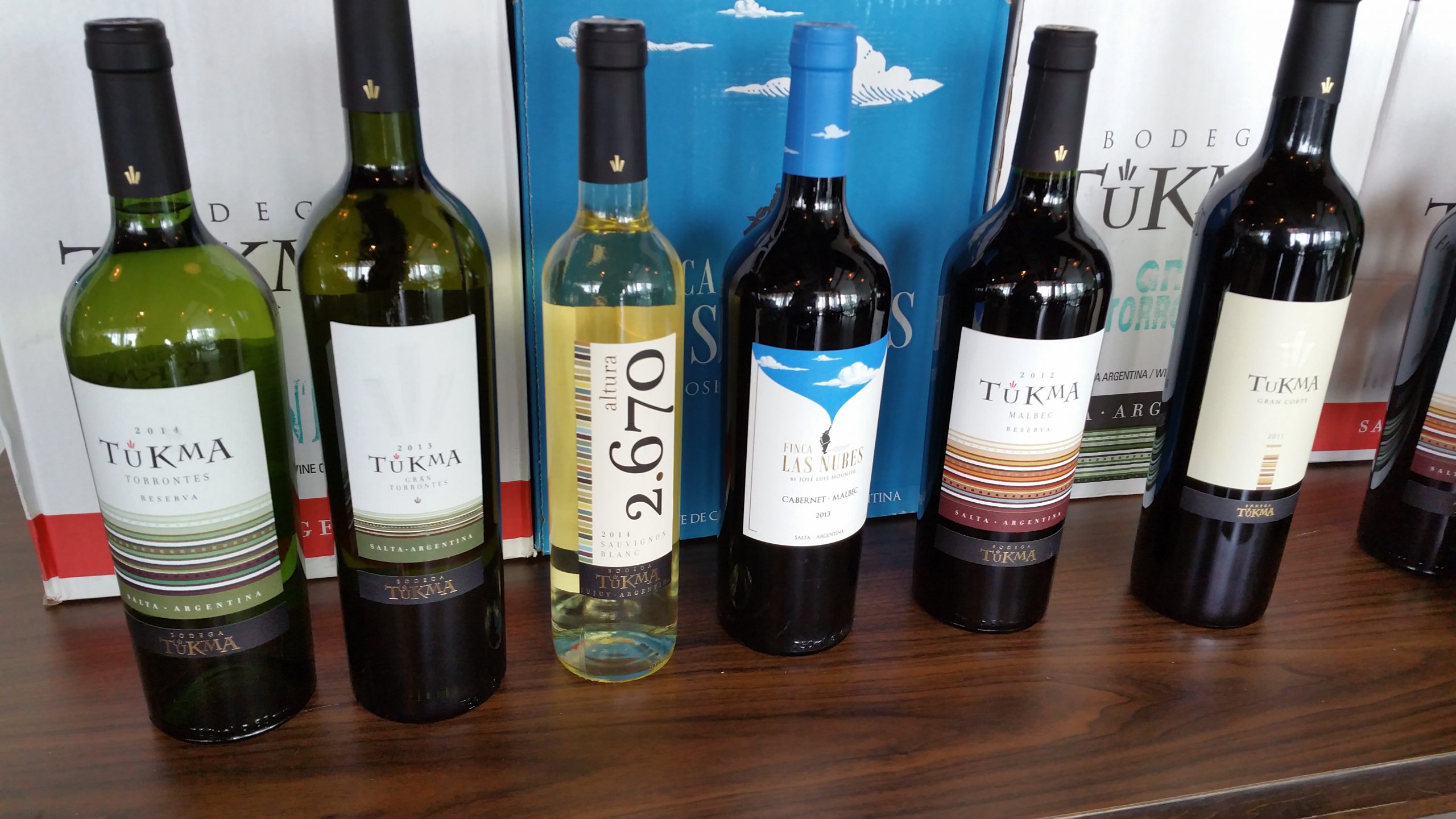 Milagros Spanish Restaurant
I had the honor of attending a trade tasting host by Mr. Paul Keng of KTT fine wines. Pretty decent turnout considering a few late comers but that didn't dampen my mood of tasting some really interesting wines.
Freshly air-flown from Calchaquí Valley of Argentina was Mr. Fernando Maurette, the chief winemaker of Bodega TUKMA. They pride themselves of making unique high altitude wines and glorifying the names of the country's prized black & white grapes, Malbec & Torrentes respectively. Located in the northwestern part of Argentina, Calchaquí Valley crosses provinces of Catamarca, Tucumán and Salta which are the main wine producing districts.
At higher altitudes, grapes adapt to the heighten ultraviolet exposure by growing thicker skins and developing deeper pigmentation. This is balanced off by a cooler temperature due to elevation. All these attributes, accompanied by timely irrigation allows grapes to develop sugars, promote ripening and yet preserving acidity to give them a balance structure.
As Mr. Maurette had a limited capacity in English, he let most of his wines do the talking, and boy…. did they give a "arousing" speech ! Some wines were certainly worth mentioning.
"TORRANTES" MY TONGUE ANYTIME
First up, the highly acclaimed Torrontes Reserva 2014. Having scored 90 Parker points by Wine Advocate for previous vintages, this was one to watch and it certainly did not disappoint. Torrontes first originated from La Rioja, Spain. After almost 3 centuries of evolution, it has become Argentina's landmark white grape.
Sean's Tasting notes: Pronounced bouquet of white flowers with a tinge of white peach, living up to its name of 1 of the most aromatic varietal. Bright acidity on the palette with tones of dried apricots and citrus. It was heartening to know that no malolactic fermentation or oak was used as that would have totally wrecked its clean, crisp and perfumed profile.
FROM SQUAD TO STAR PLAYER
Malbec has also come a long way in Argentina being first cultivated in Bordeaux. After the 1956 frost which killed almost 75% of its crop, it has lost its standing there, becoming somewhat of a "bench player", usually playing a bit part in blending certain Bordeaux wines. It is however still predominating grown in Cahor,, Southwest of France and goes by the name Auxerrois or simply, Cot.
As Malbec takes the stage, the 2011 Grand Corte is 65% Malbec, 20% Tannat & 15% Cabernet Sauvignon. Having the usual star player benched for a change isn't so bad after all. This baby scored 92 Parker points with Wine Advocate for its 2010 vintage & is currently featured in Lufthansa's First Class.
Sean's Tasting Notes : An excellent blend of all 3 grapes (with Malbec as the highlight) playing on individual strengths of tannin, alcohol & acidity. Intense & vibrant color. The building blocks of all 3 grapes gives it a sturdy structure and intensity on the palate. Expect layers of dark fruit like plums & dried prunes. With an aging period of 12 months in French Oak, the toast & vanilla profile really comes thru' giving it a smooth, luscious finish.
HEIGHT IS EVERYTHING
If you think you know your everyday Sauvignon Blanc, think again. Old world Sauvignon Blancs like Sancerre from Loire are usually quite subtle, restrained, much like a dainty lady. On the contrast, new world Sauvignon Blancs from iconic regions like Marlborough are prolifically fruit driven.
The Altura 2670 is somewhat in between. Grown in the vineyards of Huacalera (near Bolivia, some 500 km away from their winery. It possesses the best of both worlds expressing a unison of fruit & vegetal aromas. Its unique name comes from the fact that its harvested from the highest altitude (2670 meters abv. sea level) in the world for this varietal. A feat so commendable, I'm inspired to buy a 4-Digit lotto based on it. (Well If I don't win the lotto, at least I scored an autograph from Mr. Maurette)
Sean's Tasting Notes: With a subtle backdrop of citrus, passionfruit & summer gooseberries, you will
 find fresh cut grass on a early spring morning, with an accompaniment of asparagus & capsicum that's tantalizing on the nose. Astonishingly, the alcohol level is a whooping 13.5, but it is so well integrated with its
acidity that it is not easily picked up. Definitely my highlight for the day.
Special Thanks to : KTT Fine Wines